A FULL-STACK FUND MANAGEMENT SOLUTION 
In the competitive world of private equity, spreadsheets and antiquated processes will no longer cut it.   A firm's front, back, and middle office functions must be streamlined and in sync in order to attract and retain the top investors. From fundraising marketing, investor reporting to portfolio exits, SmartExchange integrates every stage of a fund's lifecycle into a single platform, creating a streamlined experience for both fund managers and investors alike.
A SEAMLESS EXPERIENCE FOR GPs & LPs ALIKE
GPs
GPs, Investor Relations, and Fund Administrators can manage and automate all investor relations services on one platform.  Centralizing all fund-related data keeps teams aligned, informed, and accountable.
LPs
Investors can make more informed decisions with real-time fund information and dynamic reporting they can access through a customized portal anytime, anywhere.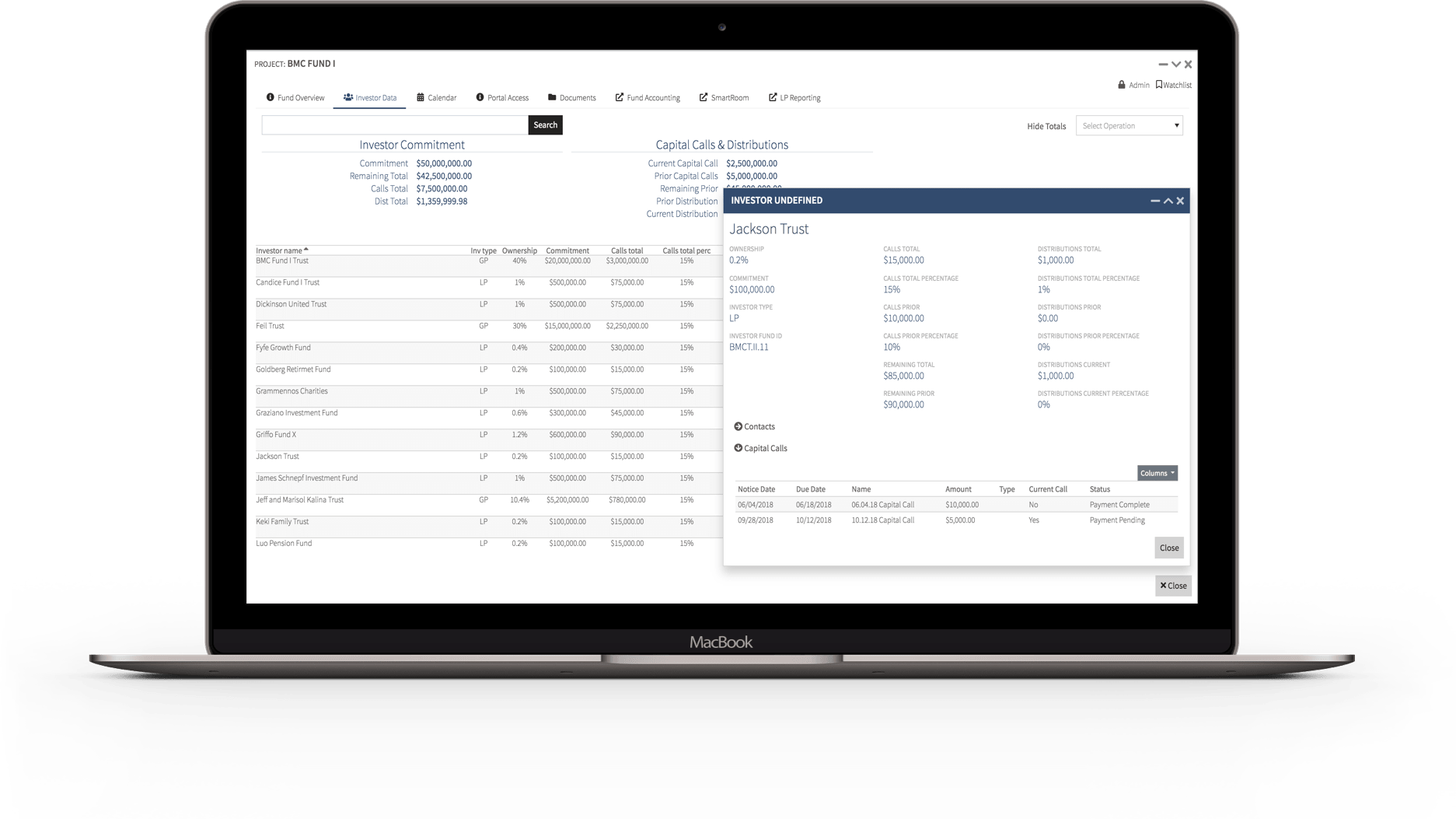 KEY ADMINISTRATION FEATURES
Manage Investor Contacts
Easily import contacts from Dealcloud integration or spreadsheets.  Assign security profiles to control access and distribution to LP specific folders.
Calculate Call & Distribution Requests
Centralize and streamline fund accounting.  Calculate calls and distributions using an import from Excel or custom calculations.
Manage Projects & Tasks
Assign tasks, due dates and collaborate on targets, portfolio company acquisitions, exits, compliance assessments/audits, and more.
Centralize Investor Data
Eliminate spreadsheets by consolidate all investor data and fund accounting into a secure, dynamic platform.
Automate Investor Reporting
Use our SmartLP tool to automate the generation of investor-specific reports based on your existing templates & distribute into individual portal accounts.
Conduct Due Diligence
SmartRoom, our industry-leading virtual data room comes fully integrated into the platform so you can securely share and collaborate on documents.
Share Fund Information
Share pertinent fund information with the ability to customize which fund details are made available to any specific investor.
Automate Email Notifications
Automate alerts and instantly notify investors via custom email tempates when new information is available in the portal.

Fundraise & Market
Market available investment opportunities with potential investors within the portal and through automated email updates.

RETAIN & ATTRACT INVESTORS WITH BETTER ACCESS TO INFORMATION

Modern Portal Experience
Impress your investors with a intuitive online experience.  Customize the portal design to match your branding. 

Portfolio Management
LPs can securely access latest fund information, reporting, history/transactions, documents, & investment opportunities – anytime, anywhere.
Data-Driven Insights
Fully-customizable dynamic dashboards and graphics with real-time data give investors the transparency they need more strategic decisions.